Consilium Internationale Ordo Franciscanus Saecularis
u201cAll the darkness in the world cannot extinguish the light of a single candle. Lord, make me an instrument of thy peace.u201d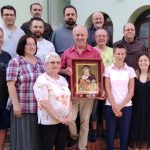 The OFS National Fraternity of Slovakia celebrated its Elective Chapter from August 30 to September 1, 2019. Jozef Gazdik was elected national minister and Lucia Spodniakova as international councilor. ...
The Secular Franciscan Order belongs to the Franciscan Family and is "formed by the organic union of all the Catholic fraternities, whose members, moved by the Holy Spirit, commit themselves through profession to live the Gospel after the manner of St. Francis in their secular state following the Rule approved by the Church" (Const. 1,3). …
The Secular Franciscan Order Read More »
...